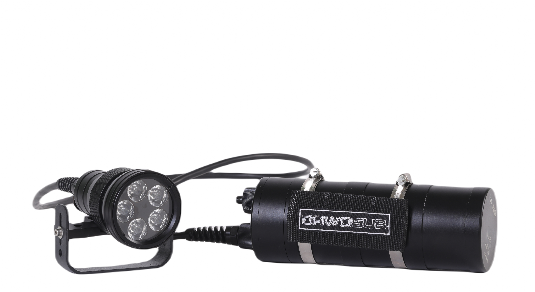 5 x CREE

Luminous Flux:

5400 / 2700

Lumen "REAL" and not NOMINAL Lumens!

Focal Angle: 12°

Power supply: 12V

Battery Pack: 12V 20 Ah

Duration: max power 4 hours / medium power 8 hours

Operating depht max: 150 Metri

Elettromagnet type contact: 2
Illuminating Head:
Knurled Bezel with 3 power selections 100 / 50/ Off
Ferrule with ON / OFF Ghiera con ON / OFF for use of second connector

Electronics designed for maximum performance

Recommended for the use of heating systems

Structure entirely in Alluminium AI6082

Scratch-resistant glossy anodizing

UN38.3

Certified Battery

CE

Charger

Goodman Handle

Embroiedered carrying bag

Dimension:
Canister 210 mm x 82 mm


Everything that makes up our flashlight has been conceived, studied, designed and created by US. No pre-packaged or industrial components or electronics were used. Everything is customized to obtain maximum performance and great efficiency.